Strap On Dildo Harness Bondage Gear
Tue, 01/17/2012 - 11:32 — Anonymous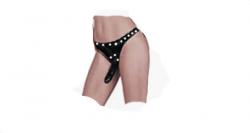 SKU: STRON1
A fetish leather harness with a black rubber penis prosthetic.
Ideal for all strap on fun.
Sturdy harness leather that will stand up rough action.
The penis insert is removable so that it can be easily washed and stored away.
A steel ring holds the prosthetic securely firm to the pubic area.
Nickle studding along the top and eyeleted strap with a roller buckle.
All leather edges are sewn.
We have several colours available for you to choose from.
A BDSM fetish leather harness suitable for all bondage and related activities.
Ideal for SM Mistress or master.
Made from quality latex and firm belting leather for serious control.
Size selection is for harness size only.
Made in England
OUR COURIERS