Breast Bondage Harness
Sat, 09/08/2012 - 12:23 — Anonymous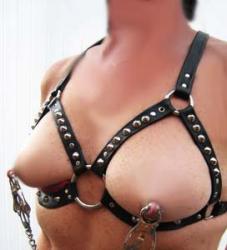 SKU: STDB23
A studded leather bondage harness,for female breast restriction and enhancement.
Fully adjustable harness that enhances the curves of the female breasts and gives a true slave girl look to any female.
Conical nickle steel studding set into kinky black leather.
Roller buckle adjustment that ensures a good fit and comfort for the wearer.
Please supply your measurements in the checkout process or send a personal email to Mistress Penny this will ensure that we get it right just for you.
Further details can be obtained from Mistress Penny would will be most happy to help in your selection of this bondage classic.
All customers should note that strictlyleather makes your item to order and does not hold stock items.
We are a true bespoke manufacturer.
Made in England by strictlyleather.com
OUR COURIERS