Penis Controlling Harness Total Chastity Harness
Mon, 03/05/2012 - 16:00 — Anonymous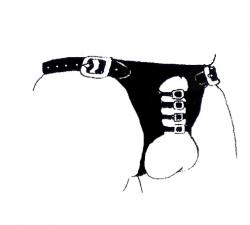 SKU: UPFRBRFS1
The "Up front " Chastity Penis restraining harness set.
Made from leather hide, sewn edges, Full control chastity device.
A serious item to control your male slave.
Includes testicle strap,
Small steel buckles on the front.
Waist straps can be locked at the buckles, as can the crutch strap by using a small padlock at the buckle "D"ring, Locks supplied in our metal security section.
Black leather hide fully controls all subjects.
Very useful in male chastity bondage or geni torture training,Ideal when using stinging nettles,watch the worm squirm,no escape from this harness.
A BDSM must for the serious fan of leather fetish bondage.
Control that penis and keep him attentive.
All customers should note that strictlyleather makes your item to order and does not hold stock items.
We are a true bespoke manufacturer.
Made in England. by strictlyleather.com
OUR COURIERS