Testicle Stretcher Restraint Bondage Leather Fetish Harness
Wed, 09/21/2011 - 19:12 — Anonymous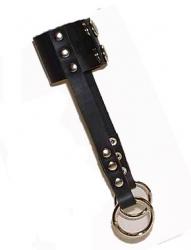 SKU: BST2RG
A really useful "Ball stretcher" made from medium grade hide leather.2" wide .
Straps hang down 6" with two steel rings attached.
Heavy leather bondage chastity and punishment equipment male control device that really works well.
Ensure that your male slave stands to attention at all times.
You can attach weights or tie the straps to an ankle bondage set to ensure that he cannot stand up to full height.
Great for pulling back between legs for CBT or full genital torture.
A useful item for any serious CBT geni torture fetish leather bondage session.
Made in England by strictlyleather.com
OUR COURIERS