Muzzle Gag Leather Bondage
Thu, 09/15/2011 - 16:15 — Anonymous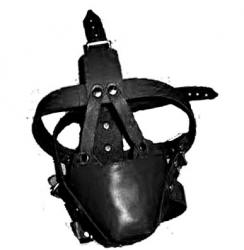 SKU: MZGG1
Bondage Muzzle gag with fitted head harness.
A superb BDSM gear leather edge play device.
Sewn edges,nickle steel fittings.
This is a fitted chin gag that covers the mouth completely included in this set is a fitted collar with a "D" at the front.
All straps are fully adjustable by using a steel roller buckle.
Strap holes have nickle steel eyelets for security, use a padlock at the buckles.
Black medium hide bondage leather. Just think of what you can do with this gag,
Unisex use.
Other colours available, but we think it looks better in black.
Made in England by strictlyleather.com
OUR COURIERS