Strap On Dildo Harness Kinky Bondage Gear
Tue, 01/17/2012 - 11:32 — Anonymous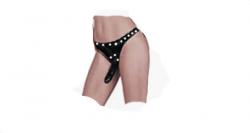 SKU: STRON1
A genuine kinky leather harness with a synthetic silicon rubber penis prosthetic,fully tactile and comfortable.
Strictlyleather.com is a bespoke manufacturing workshop hence we make this item to order only.
The prosthetic colour shown in the photograph is black,but at present black is not available.
We will send you a realistic flesh tone version.
Sturdy harness leather body and strap work that will stand up to rough and prolonged action.
This item is not a flimsy cheap import.
The penis prosthetic insert is removable using strong press studs, hence it can be easily washed and stored away.
The prosthetic measures 6 1/2 long by 5 inches in diameter approx.
Nickel steel studding and eyeleted decoration along the top of the pubic plate.
All straps are eyeleted with fixed roller buckles for multi size adjustments.
All leather edges are sewn by machine.
Ideal for all strap on training.
We have several leather colours available for you to choose from.
A BDSM fetish leather harness suitable for all bondage and related activities fully unisex .
Ideal for SM games by your Mistress or Master.
Made from quality synthetic silicon and firm belting leather for serious control.
Size selection is for harness size only.
Made in England for you by Strictlyleather.com
OUR COURIERS