Leather Spanking Paddle.Severe Discipline
Wed, 01/11/2012 - 16:34 — Anonymous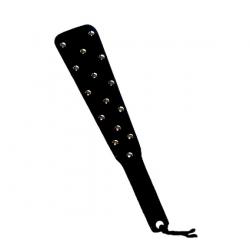 SKU: LNGSDPAD
Heavy leather and solid dome studded punishment paddle.
12 inches long, 3.5 inches wide, Approx 0.25 inch thick heavy duty belting hide leather.
Sewn edges and hanging strap attatched.
Click on image for larger view.
Made to make your sub take notice, one swipe and they will jump to attention.
The studded side is really quiet, but the other side is plain leather that really gives a loud crack, the weight of the studs on the other side gives the paddle that extra slap that does not bounce back.
Another must for any serious collection.
A strictlyleather.com classic.

The handle has a synthetic stiffener sewn into the body of this fearsome implement of punishment discipline.

Made in England by strictlyleather.com
OUR COURIERS