Tawse Convent School Punishment One Tail Spanking Strap
Sat, 09/10/2011 - 14:56 — Anonymous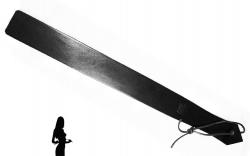 SKU: TWS1
Razor strop plain tailed punishment tawse.
Made from thick leather belting hide approx 1/4" inch thick to ensure the correct weight is delivered at the point of impact.
Leather hanging loop provided for display purposes.
Can be used on male or female subjects,just swing it harder for male miscreants.
A classic well tested implement that will last a life time.
Minimum care needed in maintaining this superb instrument of discipline.
Ideal bare bottom spanking strap,OTK punishments and for general use in all discipline scenario's.
Overall length is 18 inches long by one and a half inches wide.
The Tawse is Stamped "Leather Bound" This is Strictlyleathers trade mark.
An ideal leather fetish and BDSM implement of discipline and punishment.
Black,Brown or Dark Navy Blue leather.
Hanging loop so this tawse can be displayed in your dungeon or play room.
This tawse is a must for any collection.
Further styles available in this range of our premier range of convent school punishment tawses.
Made in England. by strictlyleather.com
OUR COURIERS