Tawse Convent School Punishment Strap Five Tails Spanking
Wed, 01/11/2012 - 16:37 — Anonymous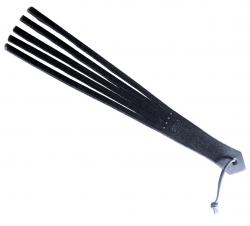 SKU: TWS5
A traditional style leather punishment tawse.
Made specially for you to use in all strict discipline and fetish leather activities.
This style of tawse was used in Catholic schools and correctional establishments in Scotland, Ireland, England and even in Australia.
This version has five tails that will give a real sting and wrap round curves
Overall length is 18 inches, This tawse is one and a half inches wide,Thickness is approx 1/4" as are all of the Convent school tawse range.
Press cut and hand finished, stamped "Leather Bound" Strictlyleathers trade mark.
Leather hanging loop provided.
A well made item constructed from thick belting hide.
Colour choice is available.
Black looks good but brown definitely looks more sinister and authentic.
A most serious item that would be useful in any fetish BDSM collection.
Custom designs thicker and longer versions made to order, please inquire.
An ideal bondage gear equipment addition to your serious BDSM leather punishment collection.
Recommended by "The Strict Disciplinarian" " and Sir Abraxas" as a preferred punishment spanking thrashing strap.
Made in England by www.strictlyleather.com
OUR COURIERS