Arab Strap Penis Harness Leather Bondage
Mon, 03/05/2012 - 15:52 — Anonymous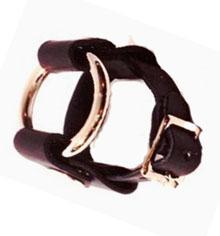 SKU: ARBSTRP
A classic leather bondage male erection boosting harness.
This design of Arab strap has existed for over 100 years.
It is due to its simple design that it has become so popular
Can be worn under clothing and this strap gives the "Big boy look"
Steel ring goes on the penis shaft and is pushed down.
The leather strap goes round the penis and testicles drawing everything together pulling the scrotum up.
An affordable BDSM item made from leather and steel.
All customers should note that strictlyleather makes your item to order and does not hold stock items.
We are a true bespoke manufacturer.
Made in England by strictlyleather.com
OUR COURIERS