Ten Tail Leather Tawse School Belt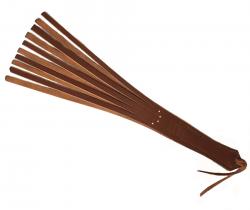 SKU: TWS10
A Very Special Hand Crafted Convent / Industrial School Style Punishment Tawse.
Ten Tails of stinging good quality English Belting leather.
The handle is press cut and stitched to fit into your palm comfortably giving you the perfect grip that will fit even the smallest of hands.
Click on image for a larger view.
Hanging loop as picture, use the handle end as an extra stinging thong whip.
Made In England By strictlyleather.
Picture shows our tawse in Brown Leather but it can be made in black.
Tawse is as picture approx 18" ( long half a yard) 1.50 " wide (1 1/2") approx 1/8 of an inch thick.
The Brown leather can be oiled to enhance the suppleness and sting off the tails,
A rare version of this style of tawse and exclusively made by strictlyleather from an original design by Mistress Penny.
A really effective and challenging leather school tawse.
A nice addition to any serious collection.
See our wonder whip oil "utube" video showing its application to our tawse range
OUR COURIERS