Penis Steel Ring Errection Restraint
Mon, 09/19/2011 - 19:10 — Anonymous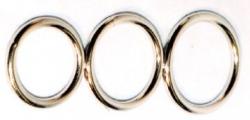 SKU: PSRNKL
Steel bondage penis erection controlling rings.
Bright nickel steel erection boosting and controlling ring.
A great bondage equipment article that has many uses in penis restriction.
If used in multiples masturbation is not easy.
Strictly leather supplies these penis rings in three sizes.
Internal diameter 1 .25" or 1.50".
Sold in singles or as many as you like.
Also useful to connect the trigger clips to belts and straps.
OUR COURIERS