Leather Slave Full Body Harness
Mon, 03/05/2012 - 16:01 — Anonymous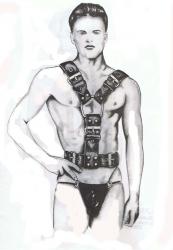 SKU: LSFBH1
A full Leather slaves body harness.
2" Wide leather stitched edging leather straps.
Heavy duty nickel steel roller buckles with matching eyelets.
Fully adjustable in all directions.
The design of the harness is the same on the back but minus the buckles.
Leather belt keepers to secure the straps after adjustment at the buckles.
A very versatile harness that can be used by several different body types.
Please use the drop down menu to select your waist size.
XL size is charged extra select option at menu.
Please make use of the notes section in the check out process to give me any measurements you may wish to include in the order to ensure that this superb harness fits you exactly. Ms Penny
As this item is rather heavy please be aware that postage to world wide destinations are a little more in cost.
This item is only available in Black.
All customers should note that strictlyleather makes your item to order and does not hold stock items.
We are a true bespoke manufacturer.
Made in England by strictly leather.com the bondage specialist.
OUR COURIERS