Penis and Testicle Bondage Harness
Mon, 03/05/2012 - 16:06 — Anonymous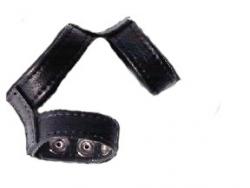 SKU: TRBall3
A classic kinky black leather penis and ball harness.
Fits all regular sizes from small to large by the ring of press stud fasteners attached to each strap.
One strap for penis shaft. and two more for the testicles.
This harness can be worn under day clothes and enhances the size of the genitals.
An ideal addition for any serious collection of strict chastity and bondage equipment collection.
Hand made specially for you in black leather.
Made in England.
All customers should note that strictlyleather makes your item to order and does not hold stock items.
We are a true bespoke manufacturer.
OUR COURIERS