Penis Chastity Sleeve Harness
Mon, 03/05/2012 - 15:58 — Anonymous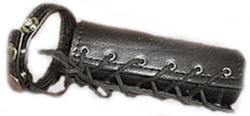 SKU: FPS1
A well tried and tested extreme restraint for male orgasm control.
Lace up leather penis sleeve with a lockable testicle strap.
Made from black medium leather.
Leather thong lace and fully eyeleted on shaft body.
A real fetish must for any BDSM male chastity and genitorture activities.
Small roller buckle on testicle strap, nickel steel fittings.
All customers should note that strictlyleather makes your item to order and does not hold stock items.
We are a true bespoke manufacturer.
Made in England by www.strictlychastity.com
OUR COURIERS