Bondage Securing Wall or Floor Plate
Wed, 03/07/2012 - 18:00 — Anonymous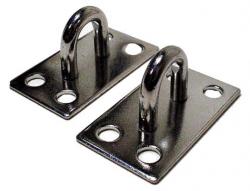 SKU: STLHASP2
A heavy duty steel wall or floor plate made from strong steel.
Welded hasp that will secure your subject in place.
Wall or floor mounting using the pre drilled holes.
Black painted finish.
A simple accessory that can be used in many locations.
Discreet and simple , but most effective.
Offer is for one fixing plate,but you can select more if you need them in the shopping cart.
OUR COURIERS