Ball Gag.
Wed, 03/07/2012 - 21:51 — Anonymous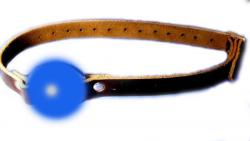 SKU: BBG
The classic style of ball gag as featured in use by the legendry Bettie Page and in all serious bondage scenes.
The most useful and versitile bondage equipment item that is a definite must in any serious collection.
Solid rubber ball is fitted to an adjustable leather strap.
Click on image for a larger view.
Unisex and one size fits all.
Ball size is one and a half inches in diameter.
Colours that are available Blue or Red, state your choice on ordering.
Steel roller buckle hide strap, steel eyelet-ted holes.
This is the classic "Bettie Page" style BDSM fetish bondage gag.
Simple in design but it really does the job and subdues that noisy slave.
Can be used in all situations.
Hand made bondage equipment ball gag restraint for use in all bdsm scenes.
All customers should note that strictlyleather makes your item to order and does not hold stock items.
We are a true bespoke manufacturer.
Made in England by strictlyleather.com
OUR COURIERS