Ball Gag with Highwaymans Eye Mask
Wed, 03/07/2012 - 21:49 — Anonymous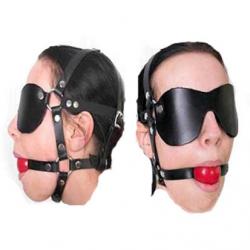 SKU: FGGHGMASK
A superb full head leather bondage harness with a fitted solid rubber ball gag.
Leather mask is fitted for serious no peeping bondage.
Nickle steel fittings,roller buckle adjustments.
Sewn strap edges,heavy duty belting hide leather that will last you years.
Clickon the image for a larger view.
Unisex,Female or male use.
A real kinky leather fetish bondage collectors item that looks the part,keeping your slave under control and in the dark.
Use in the dungeon or at your club nights out, As we all know silence is golden.
You can lock the harness by using a small brass padlock's at the buckle by passing the lock hasp through the strap at an eyelet and lock onto the "D" ring just behind the buckle or on the buckle frame.
All main harness straps are 3/4" wide black(Default colour) kinky leather,that smells and creaks as all true fetish leather should.
Under chin adjustment strap is 1/2" wide for comfort.
As this item is made specialy for you you can choose several options from the selection menu options on ordering.
Special request for bespoke no problems,just email us,variations to suit you are always welcome.
All customers should note that strictlyleather makes your item to order and does not hold stock items.
We are a true bespoke manufacturer.
Made in England by strictlyleather.com
OUR COURIERS