Bondage Ankle Cuffs With Red Leather Decoration
Fri, 01/13/2012 - 22:12 — Anonymous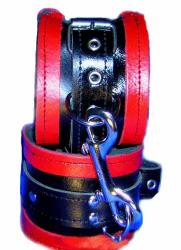 SKU: ANCRB
Kinky leather bondage slave's ankle cuffs restraint set.
A classic affordable BDSM fetish leather product.
One inch wide nickel steel roller buckle.

Heavy duty belting leather with stitched edges for total security.
Strictlyleathers Extreme Restraint Range.
Made in contrasting black and red stiff leather hide for full security and durability.

Useful in any bondage scene.
Suitable for either sex.
A playroom bedroom or dungeon classic.
Double trigger centre clip, this acts as a hobble link. You can remove the trigger hook and put a chain or padlock on the "D" rings.
All metal ware is securely rivited to the main body of the the ankle cuff set.
This leather fetish BDSM product is extremely useful for all serious bondage situations.
Hand crafted in superb high quality hard wearing leather hide.
Made in England by strictlyleather.com
Unisex bondage use.
Extreme value and made just for you in.
All customers should note that strictlyleather makes your item to order and does not hold stock items.
We are a true bespoke manufacturer.
OUR COURIERS