Bondage Blindfold Goggle Restraint Leather Fetish
Sun, 07/22/2012 - 21:56 — Anonymous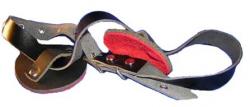 SKU: GGBF
A versitile and fully effective quality leather fetish bondage blindfold.
Great for use with "Gimp" head hoods, and can be utilised for most BDSM situations.
This style of sensory deprivation blindfold is very effective as the round leather discs fit over the eye sockets covering your subs sight totally, unlike normal blindfolds where the sub can see downwards from under the leather cover.
Click on image for larger view.
Infinite adjustment sideways thus making this blindfold very useful for multi sub use.
Eye covers adjust sideways.
Most versatile and fits most people of either gender.
Click on the image for a larger view.
Unisex.
Roller buckle and strap adjustment at the rear.
Fur lined eye covers.
Made from black hide leather, red or blue,black synthetic fur.
Ideal for male and female dungeon slaves, or for bedroom fun.
Strictlyleather bondage equipment range.
Made in England
All customers should note that strictlyleather makes your item to order and does not hold stock items.
We are a true bespoke manufacturer.
OUR COURIERS