Bondage Collar and Wrist Cuff Set Leather Bondage
Thu, 09/15/2011 - 12:41 — Anonymous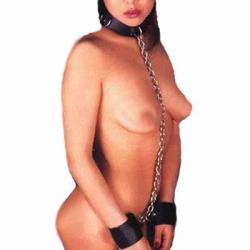 SKU: CCCSET
Heavy leather Bondage and steel chain restriction punishment outfit.
Made from Black Navy Blue or Brown hide.
Collar is 1 3/4" wide and will fit upto a 16" neck size for male use, Female set fits up to 14" neck size.
Wrist cuffs are 1 1/2" wide and fully adjustable by the means of a steel roller buckle and "D" ring, as small padlock can be passed through the adjustment strap at the buckle making this set very secure and safe for unsupervised activities.
The chain is permanantly fixed to the collar and wrist cuffs and you can shorten the chain by using a padlock on the chain and looping the lenght to your desired positions.
This set can be used for front or behind the back bondage.
State your choice on ordering, eg sex and colour.
Special instructions can be entered on the notes section at check out.
Made in England
OUR COURIERS