Leather Bondage Slave Hog Tie Set
Mon, 03/05/2012 - 15:49 — Anonymous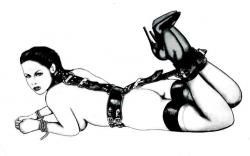 SKU: HGTSET1
Leather Bondage Hog Tie Harness.
A very special adjustable heavy leather hog tie slave BDSM outfit.
Click Illustration for a larger view.
The premier bondage restriction harness, this is an extreme restraint at an affordable cost.
Just think how you could use this kinky leather BDSM harness to capture your slave and keep them restrained in strict bondage.
It can an be used for either gender . We cannot let the girls have all the fun can we?
Made in England from black leather belting hide.
A superb 2.20 inch wide waist belt, locked on one side with two steel roller buckles. There is a 2 inch heavy duty black bondage leather neck collar with shiny metal fittings, fully versatile sizing that can be adjusted to your size by a roller buckle and strap. Ankle cuffs firmly riveted sewn edges and are fully adjustable.
A secure extreme restraint and a serious BDSM fetters as used in many Dungeons world wide a kinky secure bondage harness in leather.
See our retro drawing illustrating this harness from our original Klix Leather Products catalogue from the 80s.
Nickel steel Fittings decorate and secure this harness.
All edges of the leather strap work are sewn.
Adjustable back straps are eyeleted for extra hard wearing and consistent durability.
Please give your measurements and gender on ordering at check out.
This item is made just for you and considered to be a bespoke item.
The offer is for sizes from 18" to 36" waist, Outside this waist range and upwards a price increase will be incurred.
This will be shown in the drop down selection menu and added to the base price.
See menu for size selection.
Do not confuse this superb restriction item with cheap sex shop or E Bay Chinese imports mostly made from re constituted cardboard like leather, Made in England by strictlyleather.com the Bondage specialists.
All customers should note that strictlyleather.com makes your item to order and does not hold stock items hence you should supply your measurements at check out for a true and genuine kinky BDSM harness tailored exclusively for you.
We are a true bespoke manufacturer with many years of experience in the kinky leather fetish and BDSM scene.
OUR COURIERS