Whip 3 Tail Wooden Handled Punishment Tawse
Tue, 09/13/2011 - 20:01 — Anonymous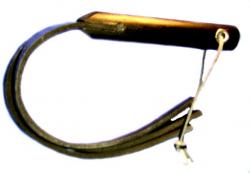 SKU: WHDTWS3
Round wooden handled thrashing whip with hanging loop.
Three tails of thick black leather hide that really sting.
This tawse is approx 18" long including the six inch handle.
The strap is 1 1/2" wide split into three tails.
A really useful whip for your collection, the wooden handle gives you firmer grip so that every stroke finds and makes it mark.
Ideal for a good bare bottom spanking or as a general punishment whip.
A well made whip that will become your favourite BDSM toy.
Black neoprene covered wooden handle.
All hand crafted in our workshop.
Made in England.
Other tailed whips available to cover all your BDSM thrashing needs.
OUR COURIERS