Spanking Paddle Leather Sorority With Pressure Relief Holes
Mon, 10/28/2013 - 19:19 — Anonymous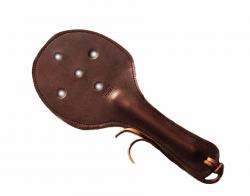 SKU: PPHPad
A very special leather spanking paddle with 5 acceleration holes.
These are special openings to allow air to pass through the paddle slapper just prior to impact.
Makes for a sharper impact on bare skin.
Click on Image for a more detailed view.
Strictly leather uses high quality heavy duty belting leather, two layers are combined to give a dense hard and smooth finish on both faces to ensure a hard slap.
A fine example of a fraternity and sorority initiation spanking paddle.
The handle is strengthened with a flexible support.
Edges are hand tooled and a hanging loop provided for display.
Machine stitching is available at a small extra charge.
The paddle is versatile and can be used as a warm up implement or for serious punishments.
The measurements of this superb spanking paddle are as follows,
Spanking slapper 5 1/4 inch wide
Handle is 5 inches long...1 inch longer than US regulations for the handles for school use.
Total and overall length of this paddle is 12 inches.
Ideal over the knee bare bottom spankings and strict leather chastisement.
Black available.
Made in England by strictlyleather.com
Beware of inferior imitations made by numerous copy merchants.
OUR COURIERS