Bondage Harness Wrist to Arm Restraint Set
Sat, 09/08/2012 - 12:51 — Anonymous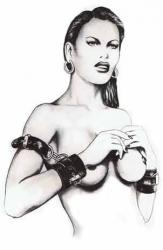 SKU: BHW2A1
A simple but very effective bondage harness that restricts your slave or subs wrist and holds them firmly in place against the upper arm.
Also can be used with our bondage mitts, if used together the subjects hands are totaly controlled, great for impact treatments and body inspections, when you do not want hands or fingers getting in the way.
Click on the image for a larger view.
Crafted by hand for you on ordering from heavy duty leather hide that will last you many years without falling apart,as do some of the far eastern imports sold elsewhere, mainly in fancy printed boxes.
This superb set is made in our own workshop with care and attention to details.
All our strap work has a neat line of machine stitching all the leading edges.
Strong nickle steel fittings compliment the beautifull firm leather that creaks in use as you struggle to get free.
There is no escaping this bondage harness set and is suitable for either female or male use.
For extra security order a set of keyed alike padlocks for the cuff straps,snap one of the locks through the eyelet just behind the buckle for total security,the cuffs will stay on until you undo the locks using any one of the four keys on either cuff.
Keyed alike locks are the way to go as it make things easier and one key fits all.
Select you choice of gender sizes and leather colour from the menu.
This item is strictly made for you as we do not hold stocks and is a bespoke item.
Sold as a set of two fixed by a steel ring,but if you want us to put a leather strap in between the arm and wrist cuff then that can be done at a small extra charge,select this option from the menu.
Made by strictlyleather
OUR COURIERS